In these lean times, its rare for me to come into possession of precious things, but yesterday, using a book voucher I received for Christmas, I acquired a copy of Pizzey & Knights' highly respected Field Guide to The Birds of Australia. Since then it has barely left my hands.

I know. My prognosis is doubtful. I may have traveled so far down the birding path that my chances of returning are poor.

But let me share with you some of my ornithological excitement. According to the twitchers, Melbourne is home to many parrots - not just your rainbow lorikeets, galahs and eastern rosellas - but more obscure varieties like the musk lorikeet, the purple crowned lorikeet and the little lorikeet. My failure to sight any of these has been a source of enduring frustration, but today, at last, things changed ...

During a break from reading at Vision Australia, one of the workers noticed me poring over my new bird book and informed me that a family of red-rumped parrots was living in the park right next door. Once I'd finished with my work, I walked down to have a look and was far from disappointed.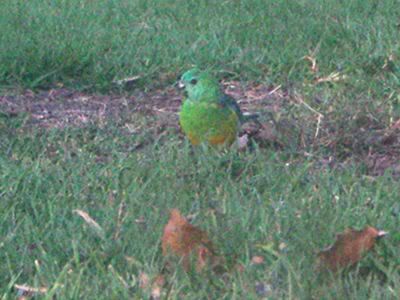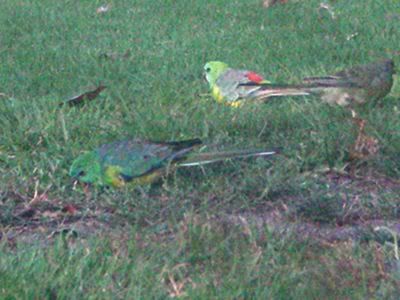 Please excuse the quality of the photos. My camera is not only cheap but somewhat wonky and I had to take these shots at full zoom. Typically for the bird kingdom, the dull version of the bird is the female. Red-rumped parrots (Psephotus haematonotus) are also known as grass parrots.